Microsoft Word 2010 Bible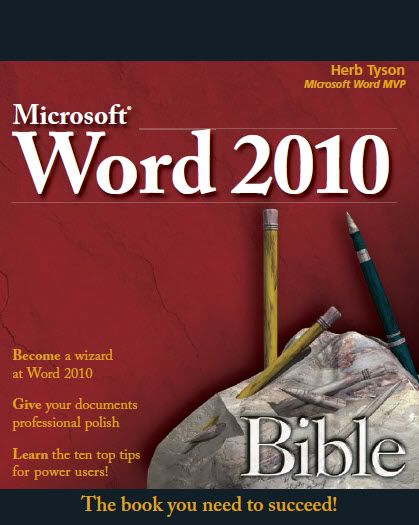 In-depth guidance on Word 2010 from a Microsoft MVP
Microsoft Word 2010 arrives with many changes and improvements, and this comprehensive guide from Microsoft MVP Herb Tyson is your expert, one-stop resource for it all. Master Word's new features such as a new interface and customized Ribbon, major new productivity-boosting collaboration tools, how to publish directly to blogs, how to work with XML, and much more. Follow step-by-step instructions and best practices, avoid pitfalls, discover practical workarounds, and get the very most out of your new Word 2010 with this packed guide.
Coverage includes:
* Making Word Work for You
* The X Files: Understanding and Using Word' New File Format
* Make It Stop! Cures and Treatments for Word' Top Annoyances
* Word on the Street
* Formatting 101: Font/Character Formatting
* Paragraph Formatting
* In Style!
* The Clipboard
* Find, Replace, and Go To
* Writing Tools
* Language Tools
* Building Blocks and Quick Parts
* AutoCorrect
* AutoFormat
* Action Options (What Happened to Smart Tags?)
* Tables
* Pictures and SmartArt
* Headers and Footers
* Symbols and Equations
* WordArt
* Charts
* Inserting Objects and Files
* Page Setup and Sections
* Textboxes and Other Shapes
* Columns
* Publishing as PDF and XPS
* Blogging and Publishing as HTML
* Templates and Themes
* Bookmarks
* Tables of Contents
* Footnotes, Endnotes, Citations, and Bibliography
* Captions and Tables of Captioned Items
* Indexing
* Tables of Authorities
* Hyperlinks and Cross-References
* Data Sources
* Envelopes and Labels
* Data Documents and Mail Merge
* Forms
* Keyboard Customization
* The Quick Access Toolbar
* The Ribbon
* Options and Settings
* Macros: Recording, Editing, and Using
* Security, Tracking, and Comments
* Comparing and Combining Collaborative Documents
* SharePoint and SkyDrive
* SharePoint Workspace
* Integration with Other Office Applications
Discover all the changes and improvements to Word 2010 and start using them to full effect with the Word 2010 Bible!
From the Back Cover
No shortage of words here—it's all you need to know on Word!
Microsoft Word 2010 arrives with many changes and improvements, and the 900+ pages in this in-depth book covers them all. Microsoft MVP Herb Tyson shows you what's new and improved—such as the customizable Ribbon, Super Tooltips, launchers, live preview, SharePoint® Workspace, and more—while he guides you through a wealth of Word basics, advanced techniques, and productivity-boosting tools. Get the first and last word on Word 2010 with this packed guide!
* Understand Word 2010's "results-oriented" user interface
* Discover why using Styles can be smarter than using direct formatting
* Learn 10 Power User tips that will save you time
* See how to avoid or prevent Word's most annoying habits
* Make best use of the Clipboard, Quick Parts, and Building Blocks
* Publish files as PDF, XPS, or HTML—and use Word to blog
* Explore Word 2010's new Navigation panel and create professional reports using SmartArt and Escher-based graphics
* Apply security, collaborate by co-authoring, and integrate with other Office apps
Become a wizard at Word 2010
Give your documents professional polish
Learn the ten top tips for power users!
http://hotfile.com/dl/68282299/ea3e09b/word2010bible.html